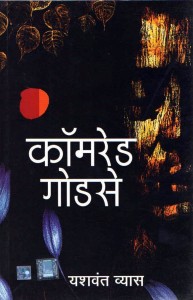 Comrade Godse is the novel written by eminent author Yashwant Vyas. In his inimitable style Yashwant has taken a burning issue with great balance. It is not sensational; it has an undercurrent of sadness.
Novel revolves around regional press industry, communalism, market forces, black, white & grey characters and a grand fantasy. How an ordinary murder is used by media, journalists, artists, politicians, social groups and antisocial elements, is the starting point. Later, the reader discovers and rediscovers the nexus. Revolt of the two ordinary characters takes the novel to its thrilling climax.
It is fantastic, woven with the postmodern fantasy symbolism and has a unique craft.
Awarded by the prestigious Bihari Samman (Birla Foundation) COMERADE GODSE is a must read.
Gujarati version presented with the help of Jayesh Aghyaru.
Cover painting by internationally renowned artist CHARAN SHARMA.
The Novel
At a place where Hindu and Muslim localities met, Pyare Mian was found dead. A painting depicting an animal was discovered near his dead body . Not exactly a painting, it was a brochure usually distributed during exhibitions. There was a time when a slaughtered animal was thrown in order to instigate riots. Today, a brochure is enough to do the job! Pyare Mian's murder turned out to be vital for two Newspaper publishers, two riot instigators, two 'communal' and two 'secular' traders.
When two people of different beliefs met on a cold curfew night ,things took a course most unexpected…
Characterisation  of Prem Prakash, Leela Shankar,Ghunne Shah Rangile,Atmaram Bandia, Rashoman, Kanchwala, Murtaza ,Rathi Reporter and Chiman Chaparasi etc unfold the drama in a breathtaking shot-by-shot narration.
A story written in new figuratives on Media, Politics and the 'Art of Riots' that penetrates the soul with a cold knife!
Witness the chapter 'Raat ke Barah Baje' only and get the feel of the remarkable novel on communalism today…
– Kamleshwer  in Vyangya-Yatra
The experimental, unique, new age micro-style…
– Radheshyam in Kathadesh
Offbeat, stylish and realistic ….
– Suresh pandit in Samayantar
Language and images with a specific  freshness make Comrade Godse a must read
– Arvind Mohan in India today
 New Beginning
It is for the first time that the cover of the novel carries Holograms of the Publisher Full Circle  and the writer's forum Antara together.
Antara is a nonprofit informal forum for positivism in life. Its books-division launches a novel under it's Mind series with Full Circle, the well known publisher of India.
Also, Comrade Godse is available in Gujarati for it's readers .
It was serialised in prominent Gujarati Daily Divya Bhaskar.